Friends! Nowadays everybody got Internet connection at there home/school or at office & some time WiFi but majority person still don't have WiFi connections all time.
As well we travels with two or more WiFi internet-connected devices (like iPad/iPhone & Laptop), but many hotels still require you to pay extra daily charges for each WiFi connection even have free wired network (Ethernet).
Even though i have WiFi router at home, I've been traveling a lot for auditing works, and I quickly got sick of paying an extra Rs.500/$10 per day to get my iPad or iPhone online even they giving free wired connection (Ethernet).
Ya! I know you says "why don't you use 3G/4G tethering on iPhone?" but buddy that sucks battery as well 3G/4G also not come free. Luckily, I have an iDea! as long as your room comes with an ethernet port, you should be able to use your laptop's wireless card to beam, rather than receive, an internet signal. This trick works like a charm, is incredibly simple to set up, and even saved me a few hundred dollars over the course of a few trips.
Before we begin, you should make sure that you've got a laptop or desktop with a wireless card that isn't currently connected—means your laptop is connected to the wired network & your wireless card should be free, and we can use it to allow access to the internet. Note that you have to be plugged into a wired connection in order to share the connection wirelessly with others, or have a second wireless card. Readers should also note that this won't work on (some) work networks that use group policies to enforce TPS report cover sheet boredom and prevent you from having any fun at all.
WINDOWS 7 LAPTOP
Not have Windows 7 yet? You can accomplish the same thing in Windows Vista, XP, and even OS X—the Windows Vista method is almost identical to Windows 7, but XP requires a few more steps.
Even you can skip these all step by just installing one application called
"Connectify.me
.
Step 1:
You'll want to start out by heading into the Network and Sharing Center through the Control Panel, or you can quickly get to it by right-clicking on the network icon in the system tray.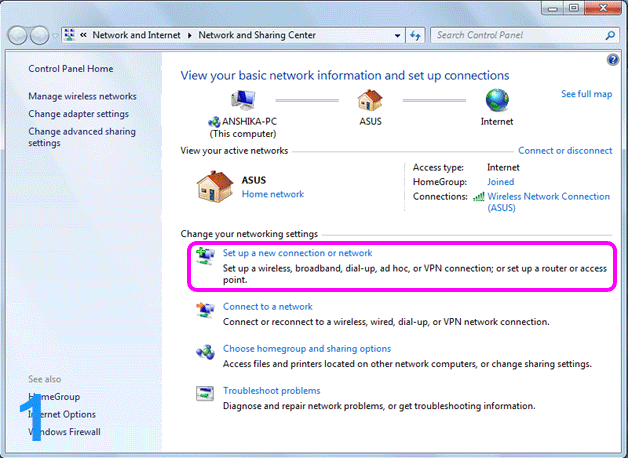 Step 2:
Once you are there, find the link for "Set up a new connection or network".
You'll be prompted with a wizard that allows you to connect to VPNs, dial-up, or create a new ad hoc wireless network, which is what we want to do. You can easily use an ad hoc network to share files back and forth between two computers, but today we'll be using it for sharing the internet connection.
Step 3:
Now a dialogue box open, you'll need to give your network a name and choose some security options—remember that WEP is extremely easy to crack (but most time easy to connect). The really important option on this page is to remember to check the box for "Save this network".
Step 4:
Click ok! At this point your ad hoc network should be running and ready to start connecting your devices, but you'll want to hold off just a minute.
You'll notice that the ad hoc networks that you create get added to the quick-select wireless network list—when you disconnect from your ad hoc network, it's the same as stopping it. Connecting to the network is the same as starting it back up; this way you can quickly switch back and forth between connections with just a few clicks.
Step 5:
The last step is enabling connection sharing through your regular network card, which will allow anybody connected to your ad hoc wireless to use your internet connection.
To do so, you'll want to head into the Network and Sharing Center, click the "Change adapter settings" link on the left, and then find your network connection in the list—it's very important that you only enable internet connection sharing on the adapter that is actually connected to the internet. In this case, my internet access at work goes through my Local Area Connection, so I've enabled it there.
At this point, you should be able to connect any wireless device to your new ad hoc network and access the internet, or even share files directly with your laptop.
MAC OSX LAPTOP
Step 1:
In System Preferences, go to Sharing and on the Internet tab, click the source (Ethernet) and the way the other computer will connect (most likely Wi-Fi).
Step 2:
Then click the checkbox next to "Internet Sharing" in the left-hand column to get started.
This'll create a Wi-Fi hotspot emanating from your Mac that you can connect any other device to.
If you don't want everyone else nearby sucking down your bandwidth, click the "Wi-Fi" button to set a password on your ad-hoc network, before you hit the start button. Give your roomie the password and from there you're good to go.
Now to get up and running, plug your laptop into the hotel-provided ethernet port and follow whatever steps your hotel requires to get online. Then follow the above instructions to set up internet sharing, and don't forget to create a WPA key. In no time, you'll have a private Wi-Fi hotspot for all of your iPhones, iPad, and family members' laptops, all for the price of one connection or without WiFi router.
Have you been able to successfully get your wireless device connected to your Laptop? Tell us about your experience in the comments.