Yesterday we talk about how to save oneself life in wilderness with busting a smartphone but it's not always you have to crush your phone. iPhone can be much lifesaver when it has it's breath. Today we talk about the Apps who save your life in any situation.
We tested and sorted out several iphone applications and found these iphone applications which will enable and increase your chances of survival.
WiKiHow: How to and DIY Survival Kit
by wikiHow, Inc.
"First things first" an app that would be good to check out before you find yourself in any emergency situations.
This popular app covers just about every emergency situation you could think of - and many that would probably not occur to you! In addition to CPR and First Aid, you can get a quick primer on how to
deliver a baby
. You never know.
Personally, I can't imagine a situation where I'd need to know how to
swim safely with piranas
or control a spooked camel, but Wikihow can! Peruse this fascinating app at your leisure, because you probably won't be whipping out your phone while trying to survive an avalanche, escape a car on a cliff edge, or survive a long fall.
SAS Survival Guide
by Trellisys.net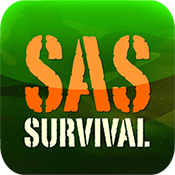 Now, if you frequently embark on outdoor adventures, you'll want to pick up SAS Survival Guide. This App Store darling is based on the million-copy bestselling book. Be prepared for urban disasters such as a plane crash, car accident, or building fire. Natural disasters such as a tornado, earthquake, and even a nuclear blast are covered as well. Learn how to survive in outdoor situations, even in extreme climates. Fully downloaded onto your device, no wi-fi or cell signal is needed.
In addition to extremely detailed survival information and checklists, you will find videos, quizzes, a morse code signaling device, and a sun compass, which is useful for iPod Touch users who don't have built-in GPS. The attractive and easy-to-understand user interface helps you navigate around the incredible depth of information in this app. A free lite version contains highlights.
Survival Pocket Ref
by Double Dog Studios

In case you don't want to shell out for SAS Survival Guide, Survival Pocket Ref is a fantastic buy for only $0.99. This iPad and iPhone app packs in tons of useful survival tips and information. Learn about first aid techniques, building shelters in both hot and cold environments, building a fire, finding food/water, and much more! You'll want to download this one now while you still have an internet connection!
Bear Grylls - Bear Essentials
by Chillingo Ltd.
BEAR GRYLLIS - BEAR ESSENTIALS contains a wealth of useful information for the layman should he ever find himself lost in the wild without obvious access to food, water, electricity, or phone reception. The information is presented in small and easy-to-digest morsels enhanced by photos, audio clips, diagrams, and video of Grylls himself explaining the app's key takeaways. Younger kids might be disturbed by some of the graphic first-aid photos and the idea of killing animals for food. The app also includes a compass tool, rescue light tool, and weather predictor.
RepairPal: Auto Repair Expert
by RepairPal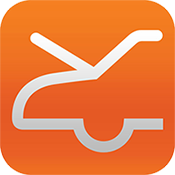 Most of us spend a great deal of time in our cars, and statistically, it IS the place where we are most likely to have an emergency situation. RepairPal offers immediate roadside assistance via their toll free number. In addition, they list the warranty services/manufacturer helplines for every car company. You can make the calls from right inside the app. RepairPal gives you car repair estimates (both for fixing problems and routine maintenance) and locates the nearest repair shops. Everyone should have this free app on their iPhone.
iWrecked - Auto Accident Assistant
by Vurgood Applications
Anyone who drives should download this app, too. iWrecked is a great, full-featured, what-to-do-after-a-car-accident app. Check with your insurance company; many of them offer apps that do the same job but with direct access to your insurer. Any car accident app should have what iWrecked does: detailed accident log/report, place to store your car/insurance information/emergency numbers, and a taxi/tow locator.
GotoAID First Aid
by Jaargon Ltd.
Emergencies can sometimes put you into a situation where you must give CPR or other aid to people around you. GotoAID contains First Aid and CPR information for people, dogs, and cats. You can also store all of your ICE information in this app, though the icon would not necessarily indicate that to a stranger looking at your phone. Get step-by-step instructions on how to perform basic CPR and First Aid for a large variety of situations.There is an option to have it all read to you so you don't have to repeatedly handle your phone while dealing with the problem at hand. This information is cached, so it is accessible even without an internet connection. A "help" button brings up listings/directions for Hospitals, Police, Dentists, Clinics, Pharmacies and more.
The Merck Manual - Home Edition
by Agile Partners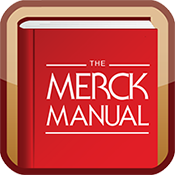 In case the information in GotoAID is not detailed enough for you, there is plenty more in this app. The Merck Manual - Home Edition is an excellent app for at home and on the road emergencies. This manual has been written by more than 300 medical experts. It has information on animal bites, burns, chemical burns, fractures, head injuries, nose bleeds, and much more. This is an essential app for anyone that wants to have handy emergency information at their fingertips. The app works great on both the iPad and iPhone.
StaySafe - Your Personal Guardian
by Safe App Ltd
From late night meetings away from the office and solo bike rides to blind dates and taxi journeys home, most people find themselves alone and possibly at risk from time to time.
StaySafe has been developed as a first line of protection for anyone working, relaxing or travelling solo.
Gabe the Guardian
by Michael Monahandiv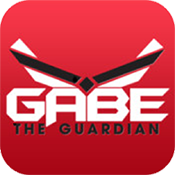 The idea of Gabe The Guardian came from founder Michael Monahan. Gabe the Guardian app has three essential functions:
➡ Emergency – Allows users to send an emergency message, including timestamp, GPS information and a photo, to a pre-selected list of contacts with the touch of a button.
➡ Check-In – This gives users the ability to inform friends and family of their whereabouts when in an unfamiliar place or out somewhere alone. It is also a great way to quickly and easily share photos with friends.
➡ Locate Me – This feature allows users to send a link with their GPS information, allowing friends and family to view the user's location on a map. This feature provides additional flexibility for users who want key people to be informed of the user's location.
Smart-ICE4family
by EMS Options, LLC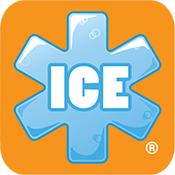 In case you're incapacitated and unable to call for help, you'll want this one. Paramedics and hospital personnel will often look at a patient's phone for an ICE (In Case of Emergency) number to know who to call for you, so it's a good idea to have an app clearly labeled ICE. Smart-ICE4family, or the single guy/gal version, ICE4me, are examples of apps that allow you to input that information, and pertinent medical conditions (such as allergies) for the whole family. Also, keep your medical insurance information stored in the app for easy access when needed. Keep an app like this on your home page so emergency personnel can find it.
5-0 Radio Police Scanner
by New & Popular
Tap into the largest collection of live police, firefighters, aircraft, railroad, marine, emergency, and ham radios. Be the first to know about important news, events, or the first to know about any major crime waves happening in your town.
Feature
➡ Localized police codes - Now you can understand the police language that is specific to your city/county.
➡ Feeds/Codes for all 50 U.S. States, Australia, and others are included.
➡ New police feeds and others are added on an hourly basis.
iEarthquakes
by Banana Coding

In 2012 the earth is most unstable one and if you live nearby any of these location then this app is must have in your iPhone. iEarthquakes is App to provide the natural disasters; Earthquake, Tsunami, Flood, Tornado, Cyclone, and Storm. Data feeds from official weather around the world. Stay tuned to latest news with push notification.
➡ Portray Mode to display location of the natural disaster. Located your location on the map. Ability to see how far away from disaster's location.
➡ With iEarthquakes Lite version, enjoy a free copy of software (only no push notification).
iMapWeather Radio
by Weather Decision Technologies, Inc.
No matter where you are or what you're doing, even if your phone is in "sleep" mode, iMapWeather Radio will wake up your iPhone and alert you when dangerous weather is on the way. If you're traveling, the app will automatically update to your current location. It's also a full-fledged weather app. Keep on top of potentially dangerous conditions with iMapWeather Radio.
!Emergency!
by UselessApps Inc.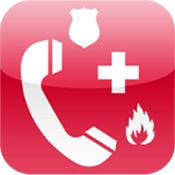 !Emergency! is a must have for international travelers. You probably are aware that 911 is not a universal number. In different countries the emergency number varies from place to place. This app uses your location and provides a quick and easy way to get in touch with the emergency number in that area. If you travel outside the U.S., you'll want to grab this one.
I find that the iphone has an impressive number of features, its quick, user friendly, and there's a huge world of apps out there for it. But we can only give you our few findings, the ideas would increase when you participate so just right down us your
idea
.