Friends, now you're probably mastered your favorite stock iOS apps such as
Camera
&
Safari
with my earlier posts. But other apps that come preloaded on your iOS device include features you may not have discovered.
1) Be Scientific - CALCULATOR
A surprising number of iPhone users don't realize that the built-in Calculator app actually offers a scientific calculator, too. To access more advanced functions, simply rotate your iPhone from portrait to landscape mode.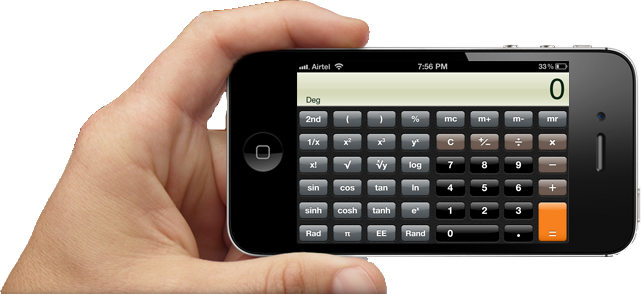 2) Make Ringtones through your Own Voice/ Nature Sound - VOICE MEMO
You can use the Voice Memo app to make short recordings for yourself, but you can also use it to create custom ringtones, with relatively little effort. And remember, you can use your ringtones for other audio alerts besides incoming phone calls.
Fire up the app and record your new ringtone. Once you've finished creating your masterpiece, email it to yourself. Tap the list button at the bottom-right corner to get to your list of memos. If you want to trim the recording, tap the right arrow to get to the Info screen and then tap Trip Memo. Once you're happy with your recording, tap the Share Button, and then Email.
Trim your memo as necessary & email it
Download the recording on your Mac or PC. It will sport the .m4a extension. Rename the file to so that it instead ends with .m4r. Double-click your new .m4r file or drag it on to iTunes, and the software will now recognize it as a ringtone, which you can in turn sync back to your iPhone.
3) Get Daily Quotes - STOCKS
The Stocks app is another one that offers an alternative view when you rotate it onto landscape mode. You'll see a wider chart of of stock price over time, and you can adjust the charts range anywhere from one day up to two years. Tap and hold on the chart in that view, and you can drag your finger to see exact stock prices on specific dates. Swipe across the entire chart, and you'll advance to the next stock on your list.
Tap and hold on the landscape Stocks interface to pinpoint exact stock values & Swipe for next co.
4) Hourly Forecast - WEATHER
Tap on the Weather app's interface, and you'll expose an hourly breakdown for the rest of the current day's forecast. And don't forget you can swipe on the current weather conditions in Notification Center to show the five-day forecast instead.
5) Fall asleep listening your Music/ Video - CLOCK
You'll already know that the Clock app can show you the current time in countries around the world, schedule alarms, set timers and work as a stopwatch. But despite its utilitarian focus, the app has a secret feature up its virtual sleeves: you can use it as a sleep timer for your music (or a video).
If you choose Stop Playing, the timer silences your iPhone, instead of ringing out, once time's up.
If you want to fall asleep to listening the music then check out my earlier post
"Fall asleep listening your Music"
for detailed guide.
With this selected, your iOS iDevice will stop whatever music or video is currently playing when the timer runs out.
INTERESTING TIP:
Friends most of you like radio / streaming music and believe me the best one is
PANDORA Radio
. But it's works only in USA, by VPN you can access it outside USA. Ya! I know, you don't want to loose money on VPN so I have a tip: you use any VPN service who offer you free trial bandwidth for trial like
VPN Express
(give 300 mb free for 3 times) and connect VPN open Pandora Radio it's works off course, now just disconnect VPN and Bingo! your PANDORA radio still working. You can shuffle VPN for long time use or expense $0.99 for lifetime (as 1GB enough). Below PANDORA working in INDIA.
Let us know how these tips worked out for you, and if you have any questions, ask them in the comments below!
If you already know these tips, keep the link handy as a quick way to help a friend. If you have a tip of your own you'd like to suggest, add them to the comments or send them in to
contact@iDeas4iOS.com
. (If it's especially awesome and previously unknown to us, we'll even give ya a reward…)