Do you know friends your native Camera app is much more than point & shoot. Many of us only use 10% of the features of Camera App, in full potential you can snap DSLR quality images/videos.
Although the iPhone's camera is super-simple to use on the surface, there are some tips and tricks you can employ to help you get the most out of your handset's photographic abilities.
If all you've done with your iPhone so far is point-and-shoot, or if you're just plain new to the device, read on for handy hints that might well help you snap some great pictures & details.
1)CAMERA FOCUS (AE/AF Lock)
Wondering how to use iOS 5's new AE/AF lock to stop your iPhone's auto-focus from wrecking your perfectly set up shot? Fret no more! With iOS 5, locking exposure and focus couldn't be easier, and after applying the lock, you can even recompose your shot without the camera kicking in the auto-focus.
Here's how!
i)Launch the camera app and get your subject in the frame.
ii)Tap the object/person you with to focus on and hold your finger on the screen for a few seconds.
iii)Release your finger after the blue focus square pulsates.
iv)The square will disappear and AE/AF Lock will appear at the bottom of the screen.
v)Perfect your composure and snap the photo!
for removing lock Just tap anywhere on the screen and the AE/AF lock will go away.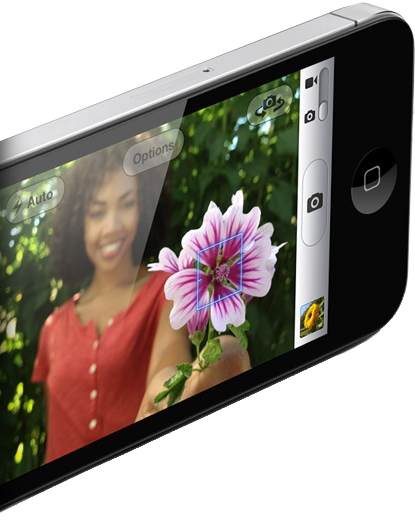 The times I find this feature most helpful is when taking photos of my nice or dogs, because anytime they move, the camera wants to refocus - even if it's just a head turn. I've lost a countless number of shots because of this. Now I just trigger the AE/AF lock and snap away!
2)DIGITAL ZOOM
First of all, it's important to emphasize that the iPhone 4S is equipped with a 5x digital zoom, not optical zoom. The difference is that the lens is not capable of zooming, but the software is. So using the digital zoom on the iPhone 4S is equivalent to taking the photo without the zoom and cropping it. This greatly reduces the quality of the photo and there are very few situations where you would want to use the digital zoom.
However, since the iPhone 4S has been upgraded to an 8 megapixel camera, there is an improvement to the digital zoom over the iPhone 4. The first photo above was taken with 0x zoom and the second one was taken with 5x zoom. You can see obvious damage done to the quality of the image, but it is, admittedly, better than I was expecting. I also believe that this is an example of a situation where you might want to use the digital zoom if you wanted to, say, show your kids a picture of the duck you saw earlier in the day.
i)Touch your thumb and forefinger to the screen and pinch them together to zoom in.
ii)Spread them apart to zoom back out.
Once you've activated the zoom feature, a slider will appear giving you linear control, if you prefer it.
3)GEO TAGGING
In addition to offering further functionality when uploaded to iPhoto, or the likes of Flickr, adding a geographical "tag" to your iPhone images makes them easier to organize and view on your handset, especially if you take a lot of pics.
When first you set-up your iDevices it ask for location services, if you select that then your iPhone will store the GPS coordinates of every photo you take, so you can always easily refer back to it later. This can be great for keeping track of vacation shots, but not so great if you're posting pictures online and don't want the entire internet to know your address.
if you don't choose location services in set-up then the first time you launch the Camera app, it will ask for your permission to use your current Location. As well simply go to the "Settings" menu on your homescreen, then "General," then "Location Services," and toggle to the "On" option for "Camera."
Now, any photos you take will be sorted by their location. To see this in action, go to "Photos," select your "Camera Roll," and along the bottom of the display you should see a "Places" option.
Hit "Places" and the phone will load up a map with red pins to denote where it is you've been snapping. If you tap a pin, it will tell you how many images are tagged with that location and give you the option to click through and see them.
4) HOLD STEADY
Camera shake is always problematic with compact snappers, and the iPhone's touchscreen design, although great for other applications, does not help matters, as you have to physically tap the screen (potentially moving the camera) to take a photo.
Well, technically you don't have to "tap" the screen. The camera button does not take the picture until you release your finger from it, so if you're struggling with blur, press and hold your finger on the button as you compose the shot and then gently release it at the point you want to capture.
As well there is another way of taking photographs.
Click the volume up hardware button on the side of your iPhone.
Tip: If your iPhone headset has a volume up button, you can use it to take pictures remotely!
check in Headphone tips for more.
5)TAKING HDR
HDR stands for High Dynamic Range and involves taking a series of pictures, one right after the other, both slightly overexposed and slightly underexposed, and combining them together to reveal more light and shadow information than a standard single-exposure photo would allow. So basically, you can see detail in the bright sky and in the shadow under the tree, rather than having one blown out or the other lost to black.
Tap the Options button at the top center of the live view screen.
Slide the HDR toggle to On.
The bottom of the screen will show HDR so you'll know it's enabled.
Note: The multiple exposures take a short amount of time to combine, so after you take an HDR photo you'll see a your iPhone say "Saving HDR". If you need to take a lot of photos quickly, you'll want to make sure HDR is set to Off.
6)CAMERA ROLL & PHOTO STREAM
Once you've taken a photo, it gets stores in your Camera Roll, and optionally your Photo Stream.
To access the Camera Roll from inside the Camera App:
Tap the Thumbnail button next to the camera button.
To access the Camera Roll from the Home screen:
i)Launch the built-in Photos app
ii)Tap the the Camera Roll tab.
Photo Stream is part of iCloud and keeps the most recent photos from your Camera Roll, up to 1000 of them and for up to 1 month, in a special album that's stored up to Apple's servers and pushed down to your other iOS 5 devices. It can also stream photos to an Apple TV 2 without keeping any local copies, and will store all your photos, without limit of number and time, in iPhoto or Aperture on Mac, and on a Windows PC.
Think of it as a photo only (no video) duplicate of all the Camera Rolls of all your iOS devices -- including photos you've saved to the Camera Roll from email and the web -- all in one place.
Unlike Camera Roll, however, you currently can't share photos from Photo Stream to specified persons (that will change with iOS 6 later this fall) That means if you take any risqué photos you don't want store online/Share with selective persons, you'll have to reset your entire Photo Stream via iCloud.com in order to get rid of them.
7) PHOTO MANAGEMENT & EDITING
You can manage your photos, including emailing, tweeting, iMessaging, deleting, creating and filing into folders, and even basic editing like red-eye removal, rotation, cropping, and auto-ehance, right in the built-in Photos app.
TIP: you can UNDO all your changes in photo by just shaking you device like
UNDO/REDO text
.
Now go out and shoot!
There are also several excellent photo editing apps in the App Store.
While the basic, built-in iPhone Camera app is all you really need to get started, there are several other well regarded Camera apps in the App Store. They typically provide more or better features than the built in app. Here are two of our current favorites.
i)
INSTAGRAM
is a popular, free iPhone app for applying distinctive filters to your photos, squaring them, and quickly sharing them to the Instagram network, as well as via Twitter and Facebook. You can also see some amazing examples of other people's iPhoneography.
ii)
CAMERA+
has a lot of great features, including separate focus and exposure settings, image stabilization, enhanced zoom, scene modes, and a bevy of sharing options.
Let us know how these tips worked out for you, and if you have any questions, ask them in the comments below!
If you already know these tips, keep the link handy as a quick way to help a friend. If you have a tip of your own you'd like to suggest, add them to the comments or send them in to
contact@iDeas4iOS.com
. (If it's especially awesome and previously unknown to us, we'll even give ya a reward…)
Check out my cool pics taken from iPhone 4/4S at
Pinterest
&
Facebook
.